home » bedding » baby bedding » baby blankets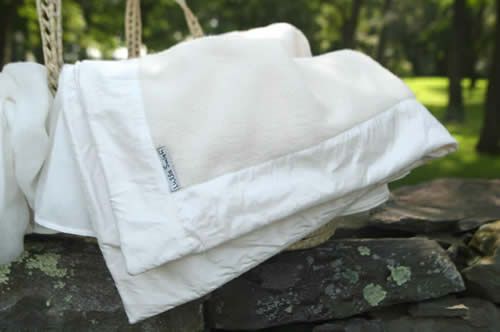 Lulla Smith Receiving Blankets
From $130.00
Product Description
Once upon a time.. in a storybook village on the coast of Maine, Lulla Smith created a magical kingdom- a design studio specializing in exquisite couture baby linens of the most luxurious cottons and sumptuous silks in the land.

Each piece is gently hand-cut and hand-stitched to the very highest standards to welcome your precious tiny princes and princesses into the world. Sought after by high profile celebrities and royal clientele, Lulla Smith baby linens grace exquisite nurseries worldwide.

Over-the-top Elegant. The perfect gift for the perfect baby! Receiving blankets are 36" x 36" and can be Piped, Flanged or Ruffled. Fabric options include: Dupioni Silk, Laundered Linen, Swiss Cotton Batiste, Seersucker, and Silk Velvet. Underside is Organic Cotton Sherpa or Organic Cotton Fleece. When ordering please specify crib ensemble style.