home » bedding » baby bedding » bedding sets & separates
Darby Square Crib Baby Bedding
$5.00 - $1,980.00
Product Description
Once upon a time.. in a storybook village on the coast of Maine, Lulla Smith created a magical kingdom- a design studio specializing in exquisite couture baby linens of the most luxurious cottons and sumptuous silks in the land.

Each piece is gently hand-cut and hand-stitched to the very highest standards to welcome your precious tiny princes and princesses into the world. Sought after by high profile celebrities and royal clientele, Lulla Smith baby linens grace exquisite nurseries worldwide.

Simple and elegant, with a hint of sensibility, this Italian Cotton crib ensemble is accented with Dupioni silk piping and bows. The simple Ivory cotton bumper is piped with Spring Dupioni silk and has Spring Dupioni silk string ties. The gathered Ivory cotton skirt is finished with a band of Spring Dupioni silk. The set is shown with a matching gathered- corner flanged duvet and two decorative Italian Cotton pillows. Because there is so little Dupioni Silk on the bumper and skirt, machine washing is possible.

The set is shown in Ivory, but is also available in White.

The set is shown accented in Spring Green, but is also available in any of our Dupioni Silk colors.

Shown on Corsican Crib #6862 Darby Square Crib.

Hand Made to order in the USA. Please allow 6-8 weeks for production.

*All Lulla Smith Bedding now available with Crib Rail Covers as a bumper alternative

*** Although the set comes with a gathered skirt, the Dust Ruffle can also be requested in Box Pleat, Inverted Pleat or Flat style as well.
Darby Square 3 Piece Set
Includes Bumper, Dust Ruffle, Fitted Sheet. Dust Ruffles are 20" unless otherwise requested.




Your Price: $1,058.00

Darby Bumper
Flanged Bumper



Your Price: $570.00

Dust Ruffle
Ruffled Skirt with Flange Insert




Your Price: $380.00

Duvet/Coverlet/Light Quilt
Your Price: $180.00

Netting Underskirt (recommended)
Adds Fullness


Your Price: $30.00

Crib Sheet
Silk Dupioni


Your Price: $140.00

Decorative Pillows
Your Price: $80.00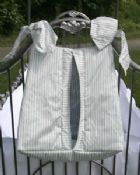 Diaper Stacker
Keep diapers close at hand with a Lulla Smith Diaper Stacker. Dimensions 13"x9"x19"



Your Price: $150.00

Set of Fabric Swatches
Can be credited back towards purchase of bedding


Your Price: $5.00

Fitted Crib Sheet- Cotton
Italian Cotton Batiste


Your Price: $108.00

Matching Teddy Bear
Your Price: $290.00

Bows- Detachable Crib Bow
Your Price: $80.00

Darby Square Iron Crib 6862
Your Price: $1,980.00